Hello you, allow me to introduce myself…
My name is Jennifer Chong and I'm an interior design project manager and blogger living in the lovely city of Cambridge. I set up Feioi in 2015 to offer interior design advice as well as a project management service for clients looking for hassle-free home renovation. I started a blog on my interiors and lifestyle musings with lots of (hopefully) useful ideas and advice, that also served as another creative outlet for me. However I'll admit that as my workload has increased, the blog has sadly been neglected. I also write articles published on the home renovation and design platform Houzz. In 2017, I set up a second business venture and founded the Cambridge Home + Garden Show to showcase all the incredible creative businesses I had come across in the local design sector.
Throughout my career I have gained all kinds of experience managing interior design projects and coordinating events. This has allowed me to hone my organisational skills and develop my knowledge of the interiors industry. I've now set up my own company Feioi offering a personal service to anyone planning renovation work in their home or property. My approach to interior design is quite practical and I always aim to design a space that works for the client. My design style is clean and simple but I like to add unique touches and unexpected twists. My belief is that a home should not only look beautiful but also be easy to live in and work for your lifestyle. I'll see a project through from start to finish so you can rely on me to complete each project smoothly and efficiently while you just sit back and relax. I'll use my keen eye for all things beautiful combined with my super organised nature to ensure the results are both functional and stylish. Whether it's a full scale renovation or just those odd jobs that need sorting out around the home, a project manager can help to organise, plan and oversee the work.
The home is such an important part of life and making it lovely is incredibly satisfying. It can be stressful and time-consuming but I really enjoy taking on interiors projects and coordinating all the elements down to the tiniest details. It's so rewarding making a design idea become a reality and seeing a project through to completion. If I can do that for someone while making the process easier and less stressful, then I know I've done a good job, and that makes me happy!
If you have a project you would like to discuss, please get in touch.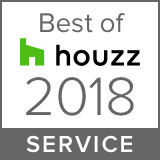 Awarded Best of Houzz 2018 for customer service
Awarded Best of Houzz 2017 for customer service
Awarded Best of Houzz 2016 for customer service
Awarded the Houzz Influencer badge – given to pros whose advice and knowledgeable posts are most appreciated by the Houzz community