I have worked on many projects throughout my career but I rarely take portfolio photos. I realise that as a designer with an online presence this seems like an oversight but I have my reasons. Sometimes I've offered some consultancy advice on certain elements but not the whole space so I don't feel I can take credit for the entire design, or other times the client didn't want photos taken of their home, which is completely fair. The most common reason is that, while I aim to inject my design style, each client is unique and their personal taste and lifestyle is the most important factor so by the end of the project, the space is a representation of them and not me and I believe this website should portray who I am and how I work. Hopefully I've been successful in doing that and I'm very happy to have a chat with you so you can decide if I'm the right designer for you.
Below are a few photos of previous work and testimonials from past clients.
Featured work
My home – all photographs by Richard Etteridge
---
Bathroom renovation – all photographs by Richard Etteridge
---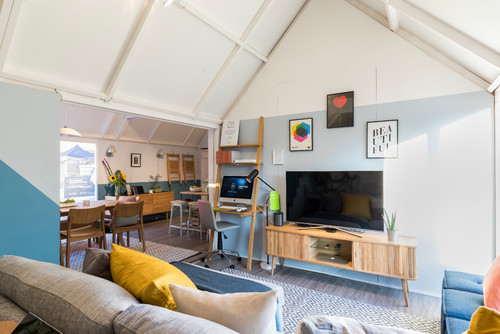 The SmartHouzz at designjunction 2016 – see more photos from the full project here
---
Testimonials
My husband and I have just moved into our first family home with our toddler and were a little overwhelmed with deciding on furniture and decor as it is our first house purchase and we are limited on time. Our two hour appointment with Jen has given us ideas as to how we can make changes to the house over time as our son gets older. We would not hesitate to recommend Jen to anyone and are already looking to book her for a further appointment.
Mr and Mrs Mattison, Cambridge
---
Jenny provide a very professional service designing and sourcing furniture for a nursery. She paid close attention to our needs and made excellent suggestions to make the most of the limited space. The room looks fantastic thanks to her good taste and eye for final details. Jenny also suggested a colour scheme for the house and provided detailed plans for our decorators to complete the job to her high specification. We are incredibly pleased with the results and would not hesitate to recommend Feioi.
Mrs Patuck, Cambridge
After I purchased my home, I decided to get my living room decorated and furnished. I researched and spoke with several designers. What stuck with me, was that right away Jennifer showed genuine excitement and great vision. We shared similar ideas and she understood what look I was going for. The work involved providing a layout for the space, providing ideas for furniture, colour and what to do with the space in the living room, as it was quite big.

The outcome surpassed whatever I imagined and everyone has been complimenting my living room. I am extremely pleased with Jennifer's work and will be getting her ideas regarding the rest of the house in the future. She is a true designer 🙂
Mrs Johnson, Hertfordshire
---
If I were to describe Jennifer in three words, these would be: professional, intuitive and stylish. She always listens to what you have to say, which helps her to manifest your vision into reality. Jennifer is also very honest, and if she believes something doesn't work, she will always tell you. If you can't make your mind up about something, you can rest assured she will advise you of your best option. She has a great sense of space and proportion, and is very practical – always looking at how you will actually use the space in real life. I find her very easy to work with, responsive and reliable, and will definitely do a project with her again.
Ms Meylakh, London
---
I needed ideas for a neutral nursery and, as a first time mum, I had no idea where to start. 

Jennifer was very professional and had lots of amazing ideas so that we could fit everything we needed into a small-ish space. She took away all the stress of trying to find different pieces of nursery furniture and where to put it. 

Jennifer provided a range of ideas and options based on my budget and she came up with solutions that I never would have thought of.

Very pleased with the outcome and my son loves it! I would highly recommend Feioi.
Mrs Astley, Hertfordshire