I have worked on a variety of residential projects with services including design consultancy and project management. My work often incorporates my personal design style of understated modern elegance, but each client is unique and their personal taste and lifestyle is the most important factor. When designing for a client, my aim is to create a space that is a representation of them. If you are planning a project and feel you could benefit from some professional advice, I would be very happy to have a chat with you so you can decide if I'm the right designer for you.
Below are a few photos of previous work and testimonials from past clients.
Featured work
All photographs by Richard Etteridge
---
Bathroom renovation – all photographs by Richard Etteridge
---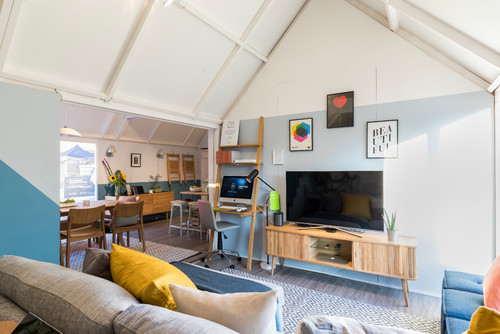 The SmartHouzz at designjunction 2016 – see more photos from the full project here
---
Testimonials
Jennifer at Feioi was an amazing help discussing our range of options for heating, decoration and layout of our new kitchen diner. Great insights that we hadn't considered in months of thinking through the project. Next time we'll be bringing Feioi in from the start of our project and would highly recommend.
Nick & Cat, Saffron Walden
I have now booked a few online interior design consultations with Jennifer and have thoroughly enjoyed them. I have left the sessions with a host of different ideas that I hadn't thought about for the spaces we were discussing and a list of links and pictures to support the new vision for the space. I am very much looking forward to implementing the new ideas and will definitely be back for more help with other rooms in the future!
Jade, Cambridge
---
We are halfway through renovations on our house and found ourselves stumped on design options for three major parts of the house. We didn't know what to do with colour palette, lighting or furniture choice.
I'm amazed by how much we covered in a 90 minute appointment with Jen. She quickly familiarised herself with our project and helped us to fully define the problems. Jen's passion, knowledge and experience were invaluable. She gave us design inspiration without being at all purist, suggesting a range of different ideas and approaches to achieve what we wanted.
We walked away with a defined collection of options and next steps for each of our three problem areas.
Leila & Johnnie, Cambridge
---
My husband and I have just moved into our first family home with our toddler and were a little overwhelmed with deciding on furniture and decor as it is our first house purchase and we are limited on time. Our two hour appointment with Jen has given us ideas as to how we can make changes to the house over time as our son gets older. We would not hesitate to recommend Jen to anyone and are already looking to book her for a further appointment.
Ella & Chris, Cambridge
---
We thought we had finished designing our kitchen… until we spoke to Jen! She had so many brilliant ideas to take it from just being a 'nice' design to something we could get really excited about. Highly recommended. Thanks, Jen 🙂
Hannah & Ian, Cambridge
---
I needed advice on storage solutions, lighting and furniture placement in my living room and decor for my study and Jen was incredibly helpful. She really listened and considered my budget and her suggestions were exactly what I needed. I would highly recommend Jen, she has saved me many hours of fruitless searching on Pinterest and online! I wouldn't hesitate to hire her again.
Bejal, Milton Keynes
---
We could not have been happier with the service provided by Feioi. We couldn't work out what to do with our main family space but Jen provided us with a layout and a style for the room. It gave us the confidence to finally furnish the room two years after buying the house. Jen was approachable and enabled us to embrace our own style. I was surprised by how spending a couple of pounds on a service added so much value to the room – I never thought I could own a room which looks like it could be in a magazine!
Hannah & Tom, Buckinghamshire
---
After I purchased my home, I decided to get my living room decorated and furnished. I researched and spoke with several designers. What stuck with me, was that right away Jennifer showed genuine excitement and great vision. We shared similar ideas and she understood what look I was going for. The work involved providing a layout for the space, providing ideas for furniture, colour and what to do with the space in the living room, as it was quite big.

The outcome surpassed whatever I imagined and everyone has been complimenting my living room. I am extremely pleased with Jennifer's work and will be getting her ideas regarding the rest of the house in the future. She is a true designer 🙂
Bola, Hertfordshire
We are currently going through an extension / renovation of our property and with so much to choose / buy, Jen has been an absolute godsend for helping with the layout, styling and designing of the loft extension. I wanted something that was very light, bright and airy and the pieces and ideas that Jen has suggested have been fantastic. She also helped with the layout of the room and advised on what would work and look the best with the space that we have. I am so pleased that I booked the 30 minute virtual design session her and will most likely be booking another one for help with the hallway decorating.
Puja, Essex
---
If I were to describe Jennifer in three words, these would be: professional, intuitive and stylish. She always listens to what you have to say, which helps her to manifest your vision into reality. Jennifer is also very honest, and if she believes something doesn't work, she will always tell you. If you can't make your mind up about something, you can rest assured she will advise you of your best option. She has a great sense of space and proportion, and is very practical – always looking at how you will actually use the space in real life. I find her very easy to work with, responsive and reliable, and will definitely do a project with her again.
Anna, London
---
I needed ideas for a neutral nursery and, as a first time mum, I had no idea where to start.

Jennifer was very professional and had lots of amazing ideas so that we could fit everything we needed into a small-ish space. She took away all the stress of trying to find different pieces of nursery furniture and where to put it.

Jennifer provided a range of ideas and options based on my budget and she came up with solutions that I never would have thought of.

Very pleased with the outcome and my son loves it! I would highly recommend Feioi.
Cat, Hertfordshire