Well first off can I just wish you all a very Happy New Year! It's a few days late but this is my first post of 2017 so what you gonna do? It's been a year since I started blogging and it's been a lot more fun than I expected leading to loads of opportunities, including writing for Houzz. My articles have generated a lot of interest and I'm pleased to say that many of them now appear in their 'Most Popular' section! It's so lovely to hear when readers enjoy the features and find them useful, so thank you to everyone that reads, likes, follows and shares. You're all super stars!
At the end of last year I had two articles published on Houzz that I didn't get round to featuring here on my own blog so this one is a twofer! The first, 10 Smart Storage Tips for Your Kitchen Bins, covers some neat tips and ideas to tackle your kitchen bin storage. The second is 10 Smart and Stylish Ways to Store Your Laundry Baskets, which looks at a variety of different ways and locations to store your laundry baskets.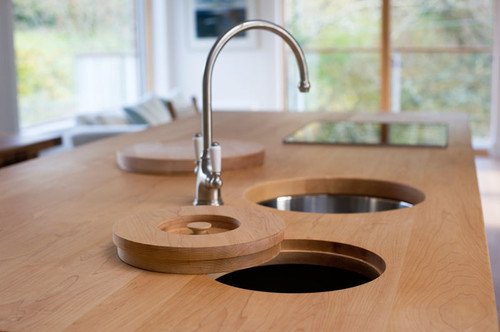 Kitchen bins can be ugly, smelly and take up valuable space but unfortunately they are something of a necessity. My article looks at neat storage tips, advice on where to put them and innovative design ideas like this handy lid set into a worktop or the super cool recycling sacks below.
Click here to read the whole article on Houzz.
---
Laundry is another unfortunate and unattractive part of everyday life. Dirty pants overflowing from a basket at the top of the stairs isn't the most aesthetically pleasing sight, not to mention that badly planned storage can be quite a pain. On the flipside, a neatly organised storage solution for your laundry baskets can be quite the dream!
This article presents ten storage solutions for your laundry baskets that are both smart and stylish from clever cupboards with integrated baskets to this awesome laundry chute! Talk about house goals!
Click here to read the whole article on Houzz.
Look out for the Houzz logo on some of my blog posts that have been featured on the site or follow me on Houzz to keep up to date.
J x
Enjoy this post? Subscribe below or follow me on Bloglovin!